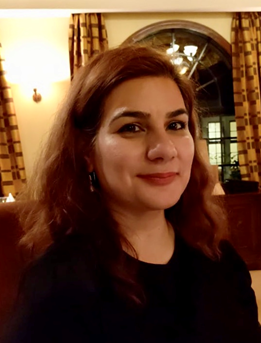 Archana Wakloo - Candidate for Chair
I am uncomplicated person with Management degree and 14 years of professional work experience in private sector.
In my previous job as a Senior Manager I have significantly contributed to explore potential opportunities for business development, develop strategic relations with key partners and stakeholders in both government and private sector, conduct negotiations and draft concept papers, and used practical and innovative ways to sustain partnerships.
I joined UNKLESA in October 2018 as a member and started to volunteer for Advocacy & Networking group, where I contributed my expertise in drafting sponsorship proposal, organizing Career Coffee Morning, strategizing job seeker database and assisting in any activity as and when required. I extended my experience and creativity to get involved with Family & Peer Support and Training working group as well, wherein I successfully launched Social Coffee Morning and designed and presented two training sessions on Public Speaking. I am also a part of UNKLESA Constitutional Review Committee and currently assisting as Deputy to the Chairperson.
I follow the pride values and am a strong, enthusiastic, passionate, inclusive, and a resourceful leader. If I am elected as the chairperson I promise to work diligently to upkeep the successful model and endeavor to take UNKLESA to newer heights.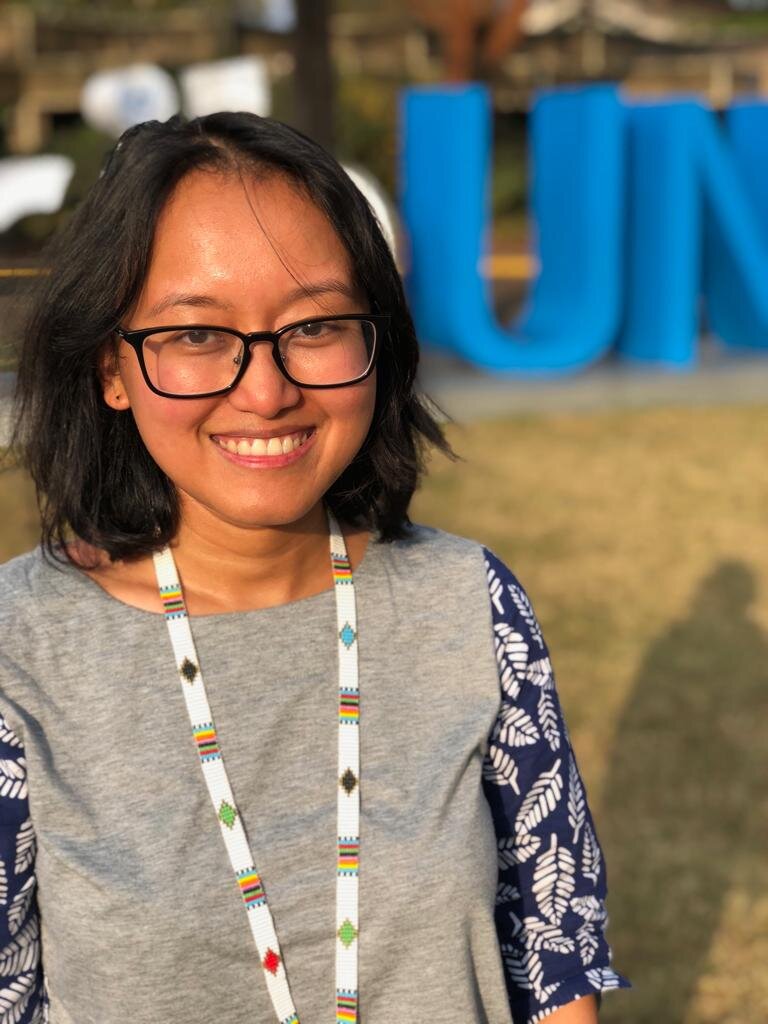 Soraya Soemadiredja - Candidate for Secretary
Soraya Soemadiredja is a third-culture kid turned adult. As such, she is familiar with the needs of UN and international development families.
In Germany, Soraya served on the UN Spouses Bonn Steering Committee for 2017-2018. After moving to Kenya, she became a UNKLESA office volunteer in mid-2018. She compiled the evaluation of the UNKLESA Kiswahili Culture Course and works on the Career Guide, assists with other communications as needed, presents at the weekly UN security briefings, and assists with organizing Career Coffee Mornings.
Soraya is running for Secretary of the UNKLESA Board to focus on:
• Increasing the visibility of UNKLESA and Spouses on the compound, through activities and continued cooperation with the Secretariat, agencies, funds, programmes and informal associations, and reaching out to agencies with no representation in UNKLESA.
• Exploring UNKLESA modalities for conferences on the compound and other opportunities to spotlight spouses that may or may not include formal employment.
• Working with the UNKLESA Office Volunteers and Office Manager to streamline office processes and training; developing projects to allow members to volunteer remotely; and, cataloguing UNKLESA's work, activity and meeting records, office procedures and documents for searchability, usability and transparency.
• Coordinating the various UNKLESA projects and activities of the different working groups, members and the Board.
• Maintaining the welcoming environment for new and current UN families while ensuring that some services and activities are open to UN staff without families in Nairobi.
• Exploring the potential of an environmentally friendly UNKLESA Office through minimizing waste, recycling and reuse.
Biography
Soraya is Indonesian and grew up in the Philippines. Prior to moving to Kenya, Soraya worked in Bonn, Germany with UNFCCC as an international UNV for event management and volunteer recruitment, training and deployment, liaising and coordinating with both UNV and UNFCCC. Back in her home country, Soraya worked in international climate policy, coordination and negotiations for the government of Indonesia with both the Office of the President's Special Envoy for Climate Change and the National Council on Climate Change. She was an adjunct lecturer at the Management Development Institute of Singapore-Tashkent, Uzbekistan where she met her husband, a Czech national.
Soraya has a degree in Political Science from the University of Toronto, Canada, studied Russian in Uzbekistan and studied in Lund University in Sweden, Central European University in Budapest, Hungary and the University of the Aegean in Lesvos, Greece. She is passionate about environmental, sustainability and climate issues as well as community theatre and performing arts. Since 2013 she has worked and volunteered with The Climate Reality Project for climate advocacy and action, in Europe, Philippines, Indonesia and now, Kenya and East Africa.
Safi Dioulde Kane - Candidate for Treasurer
Dioulde Kane is from Mauritania and joined UNKLESA since 2007. She's a Mother of three which are all grown up in Kenya and married to a UN Officer for more than 14 years.
She is graduated from TUNISA with an MBA in Financial Engineering and a Bachelor in Finance and has more than 10 years of experience in the finance and Accounting Field.
Since 2003 she has occupied different positions as a Finance and budget officer both in Kenya and Mauritania which gave her the opportunity to be familiar with the financial reporting, reconciliations and budgeting.
Prior to her arriving In Kenya she has been working for three years as a Budget Officer in one of the biggest Bank in Mauritania (BMCI).
During her Stay in Kenya she has occupied different position at Shelter Afrique and UNOPS, successively as Finance Associate in the UNOPS regional Finance office and the UNOPS Nile Basin Project.
For the last three years she has become an active member of UNKLESA, playing a role in the UNKLESA training Group which was focusing in finding appropriate trainings for UNKLESA members and Volunteering in the day to day running Office.
She is honored and motivated to run for UNKLESA Treasurer, to use her experience to work with the UNKLESA board, to produce clear and efficient Financial Reports and analysis and help into looking for new funding opportunities.
Susan Tshepiso Ndonga - Candidate for Treasurer
Susan is a Botswana national who has been a member of the UNKLESA family since 2015 when she relocated to Nairobi with her husband upon reassignment from the UN Headquarters in New York to UNON. She has since then actively volunteered for the front office of the UNKLESA family assisting with all administrative activities of the association as well as supporting the induction of all the new spouses who were arriving in Nairobi to settle with their families. Susan has also been a staunch supporter of all the social/family activities of the UNKLESA where she has always provided a hand to assist with logistics and fully participated in the activities to promote the spirit of the UN family and development of healthy social interactions. She is a highly driven individual with great ambition.

Susan holds a bachelor's degree in statistics and economics and a diploma in statistics as from the University of Botswana. She has previously worked as a Statistical Research Assistant with UNESCO at the Institute for Statistics handling data entry/input, data analyses, data compilation capturing and reporting. She has also volunteered for other organisations within the UN such as United Nations Environment Assembly. Prior to joining her husband in the UN system Susan worked as trainee Research Assistant at the Ministry of Trade and Industry in Botswana where she was highly involved in field research and data analyses for the implementation of the country's economic diversification drive. In her quest to join the UNKLESA board Susan aspires to contribute significantly to the vision of the association by providing a highly disciplined and professional treasury support to the board. She is a trained numbers person who believes in accurate and prudent data reporting, professionally maintained financial records and more principled stewardship of the funds of the association. When given an opportunity she believes she can provide the right hand to help the Board drive the mandate of the UNKLESA to greater success.
Gohar Ayoub - Candidate for Family & Peer Support
Gohar joined UNKLESA in July 2017 since then has served as coordinator of the Family and Peer support Working Group Prior to arriving in Nairobi with his wife and two kids he was engaged in his family business. By profession, Gohar is a businessman and he deal with gemstones, jewelries, rugs, antiques and all kind of handicrafts. Besides business, Gohar also takes part in community services and voluntary work and he possess excellent networking skills.

Over the past year, Gohar has focused on family focused activities, and supporting families that need assistance in dealing with difficulties in the transition. In addition, Family and Peer support Working Group plays a pivot role in UNKLESA become the leading family support organization within the UN.
Maryann Nwankwo - Candidate for Networking/Advocacy
Maryann became a member of UNKLESA in 2018 when she moved from the United Kingdom to join her husband in Nairobi. She is a Water Specialist (Hydrogeologist)/Environmentalist and has a chartership status with the Chartered Institution of Water and Environment Management (CIWEM) and Society of Environment. She also has a Prince 2 Project Management Certification. She completed an MSc degree in Hydroegology at the University of Leeds in 2006. She worked as a WASH expert in Africa, a consultant hydrogeologist at Atkins and as a hydrogeologist in a mining/engineering company (Wardell Armstrong) both in the UK. Maryann is a highly skilled professional with 10+ years of experience. She has completed several water and environmental-related projects which include preparing reports, plans and specifications for all types of infrastructure projects. Maryann has excellent knowledge of international and national regulations gained from managing and implementing several water/environmental projects both in the western and developing countries. On her job, she planned, led and managed several ground investigations for mining and engineering construction works; desk studies, water resources management; hydrogeological testing; borehole design and drilling supervision; water features survey; surface and groundwater quality monitoring; contaminant transport and modelling; hydrological and hydrogeological impact assessment and flood studies. She is a strong advocate for the provision of safe water and improved sanitary conditions in developing countries.

If elected as the Coordinator Board Member, Maryann aspires to bring new ideas for outreach, advocacy through expanding the networking horizon of the Association in order to negotiate collaborations for access to employment/volunteering/support opportunities within the UN. She is confident that she will bring on innovative concepts to boost the profile of UNKLESA from her past experience. Since signing up as an office volunteer in 2018, Maryann has prepared a map showing the statistics of members of UNKLESA from countries around world. She has also supported the Networking and Advocacy team by introducing UNKLESA to all new UN staff members at the Friday Induction and Security briefing. Maryann has helped to restructure and redesign the General Presentation used at this induction for clarity and boost the outlook of UNKLESA in the eye of the new UN international staff. She proficient in various Microsoft office applications and email/internet; including database management and use of office technology equipment. She is self-motivated, has excellent communication skills, can adapt easily in a multiculturally diverse environment and has a positive attitude toward work. She believes that by working with the elected board members, the team will take giant strides that will set the association on a higher pedestal.
Morgan Banea - Candidate for Communications & Outreach
Morgan joined the UNKLESA Board in November 2017 and since then has served as coordinator of the Communications & Outreach Working Group and, for a period, co-coordinator of the Family & Peer Support Working Group. Prior to arriving in Nairobi with her husband and son, Morgan was an Executive Assistant with over ten years of experience in the academic and non-profit arena, most recently at the American Educational Research Association. She received her Masters in International Affairs from American University in Washington, DC focusing on comparative and regional studies as well as cross-cultural communication.
Over the past year, Morgan has focused on the migration and improvement of UNKLESA's website. She introduced the Events Page, the Member's Only Portal, as well as the Orientation Portal. She oversees the UNKLESA Facebook page and group which allows members to post questions, events, and other relevant information amongst themselves. Morgan co-Chaired the UNKLESA Branding Committee and is involved in the development of the UNKLESA app. If re-elected as the Coordinator Board Member - Communications & Outreach, Morgan plans to continue supporting UNKLESA's dialogue with members through an active Facebook presence, continued improvement of the UNKLESA website, as well as exploring new ideas for outreach. She believes that an active social media presence and effective communications are key to creating a vibrant, thriving community for UNKLESA members.
Kristin Kropidlowski - Candidate for Training & Development
Kristin is an Education Specialist and Development Professional with 10+
years international work experience. She studied Peace and Conflict
Studies (MSSc) and Education (M.A.) in Germany and Finland.
Currently, she works as Online Teacher Trainer for Goethe-Institut
globally. The past five years, Kristin managed two German government
education programmes in Vietnam aiming to foster international peaceful
development through education partnerships and global dialogue. She
was responsible for in-service capacity building of teachers, online-tutors
and trainers, for the development of a broad range of learning materials
as well as for the initiation and implementation of a wide number of youth
activities and projects focusing on STEM, environment, art and media
education. Next to education, Kristin is passionate about environmental
protection and climate action. Also, she loves yoga and just finished her
yoga teacher training course before moving to Nairobi in August 2019.
Kristin's vision as UNKLESA Board Member and Coordinator of the
Training & Development Group includes four aspects: 1. Finding out
skills development interests of UNKLESA members, 2. Nourishing the
skills and knowledge in demand through trainings and voluntary miniprojects,
3. Strengthening UNKLESA as a talent pool for short and long
term recruitments among UN agencies and other (development)
organizations, 4. Promoting a community of learning, mutual support and
well-being among UNKLESA members.